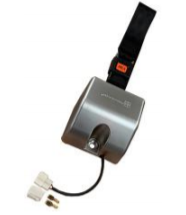 Protektor Electric Belt with loop and metal cover
The AMF Bruns Protektor Electric Belt With Loops is a professional-grade seatbelt designed for maximum safety and reliability. Constructed with a loop and metal cover, the belt helps reduce the risk of injury in the event of a crash or sudden stop. It provides an ideal solution for those who need heavy-duty protection during long rides or journeys.
Length: 11.8 ft / 3.6 m (front attachment).
SKU: H350240L1